EXPERIENCE CREATED
BRANDING / COMUNICATIONS / DIGITAL MARKETING / SOCIAL MEDIA
Smart & Biggar
Five years of collaboration with Smart & Biggar, widely recognized as Canada's leading firm for intellectual property. Mckenzieking has worked on a large number of high profile projects for Smart & Biggar over the last five years. This collaboration has resulted in a range of outputs developed across their offices in Ottawa, Toronto, Montreal, Vancouver, and Calgary.
Our work with Smart & Biggar has seen us engaged in activities from communications and strategy work through to digital design.
What we delivered
Our most recent piece of work for Smart & Biggar was the kiosk booth design for BIO 2016. We provided strategic guidance for branding the kiosk and looping video presentation as well as other materials for this event and ultimately designed and delivered an end result which helped Smart & Biggar to effectively communicate its brand story. 
Previous projects for Smart & Biggar have included: delivering an immersive design and cohesive content strategy for e-newsletters; working with Smart & Biggar's strategists to heighten the educational engagement of clients; helping Smart & Biggar to build visually on-brand digital communications to provide clients with up-to-date information about the firm and practice area profiles.
We're extremely proud to have worked so closely with Smart & Biggar for 5 years. Not only have we delivered a range of high impact projects and products, but through working with Smart & Biggar we've learned how to work smarter and biggar - in a way that helps us deliver better work for all of our clients.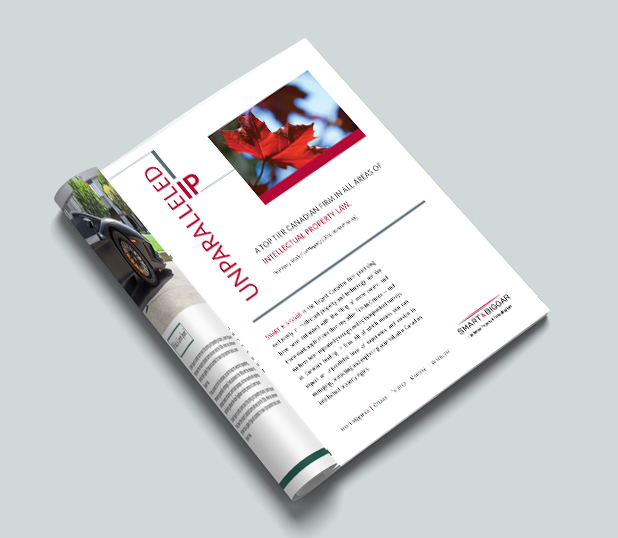 I worked with Diane during her time at Smart & Biggar where she was responsible for formatting and deploying our e-blasts and e-newsletters, providing updates to our website via the CMS and designing a variety of client facing collateral in both electronic and hard copy. Diane's personality makes her a pleasure to work with and she consistently strives to think outside the box to devise creative solutions to her work and clients.
Kristen Petersen


National Marketing Manager Smart & Biggar